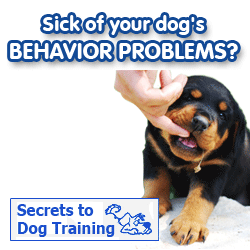 Dog biting is, obviously, a very serious problem. If your dog has bitten a person or another animal, you must take IMMEDIATE action to do your best to ensure that such an incident does not happen again. The first step is trying to determine why a dog bites. Possible reasons, outside of pure aggression, include:
Abuse
Medical Condition
Fear
Prevention is the Best Medicine
It would go without saying that the best time to stop dog biting would be before there has been an incident. Prevention begins when the dog is a puppy or as soon as you bring an adult dog into your home.
Proper Socialization
This is a key aspect of dog training that some pet owners ignore. Some dogs are rarely around other people or other animals. Then, when a situation arises in which the dog must interact with outsiders, he often behaves badly, even to the point of biting.
To avoid this, take the time to get your dog accustomed to being around people and animals outside of your family. This can be accomplished by regular trips to the dog park or by enrolling your pet in doggy day care.
Once the dog has begun to exhibit aggressive behavior, up to and including biting, the pet owner must act quickly to bring the situation under control. Some think that once a dog bites that it must be put down. Many animal experts disagree with this. The only reason to put down a dog is that he is terminally ill and will be in pain for the rest of his life.
There is always hope for overcoming behavior problems, including biting.
Below are some tips to stop dog biting.
Do Not Allow Rough Play
Bites often occur during rough play when the dog's play turns to aggression. Avoiding rough play, such as wrestling and tug-of-war games, will reduce this risk. Allowing rough play teaches your dog that there are times when it is okay to be aggressive.
Check for Medical Conditions
If you have had your dog for a while and he recently bit someone without an obvious reason, you should check with your vet to rule out a medical condition. It is common for a dog who never had behavior issues in the past to become aggressive due to a medical condition.
Usually, when such a condition is diagnosed and treated, the aggressive behavior, including biting, will stop.
Learn Stressers
If a certain toy or treat causes aggression in your pet, remove that stresser. If you can identify what brings on such behavior, you can simply remove the dog from the situation or remove the item from the dog.
This is often just a temporary fix and additional steps should still be taken in order to improve the dog's behavior.
Work with a Professional
While some behavior problems can be handled by the owner, because of the potential danger that biting poses, it is wise to bring in the help of a professional. An animal behaviorist or high quality trainer will be able to help you figure out what caused the biting and then develop a plan to help you bring your dog's behavior back under control.
In the meantime, it is important that you do not allow your dog to be in a situation where further injury could occur. Be patient as you work with your pet. Most importantly, do not give up on your dog. Remember, most behavior problems can be corrected.