Have you heard of Secrets to Dog Training?
There are many dog training manuals on the internet that promise to help you train your dog and to assist with some of the most common dog behavior issues. But not all dog training guides are created equal, so we decided to pick up a copy of Secrets to Dog Training and investigate for ourselves. Hopefully our review will help provide you with some insight as to whether it's the right dog training manual for you.
So let's take a closer look at the Secrets to Dog Training eBook by Daniel Stevens.
Daniel Stevens is a professional dog trainer with over 20 years of hands-on experience in the field. Stevens took this personal experience as a dog trainer and complied it in his book.
In this book (formally known as SitStayFetch), 25 of the most common problems are discussed in detail. This includes explaining the reasons for certain behaviors as well as tips on how to correct those behaviors. The book and videos cover issues from basic dog training like leash pulling, jumping, and barking to more complex problems like aggressive behavior and biting.
What's covered inside Secrets to Dog Training?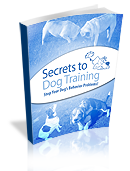 At over 250 pages this comprehensive ebook teaches you how to correct over 25 dog behavior problems with step by step instructions and numerous photos. Click here for a complete table of contents top see exactly what's covered inside.
Click here for some screenshots I took to get an idea of what the book looks like inside.
The book is broken down into 3 main sections – skim through our list below for a general idea of what is covered in each section of the book.
Section 101 – It's a Dog's Life
This section covers the basics of dog ownership, selecting a puppy or dog, breed information, and where to adopt from if you decide to go that route.
Section 102 – Caring for Your Dog
This section talks about what to do when you bring your dog home for the first time, diet and nutrition, safe and fun toys to buy, choosing a vet etc.
Section 103 – Training Methods Revealed
This section covers the basics of dog training, the different and most affective methods (e.g. why choke collars and prong collars are not recommended for leash training) crate training etc.
Section 201 – Secrets to Understanding Your Dog
This is a great section that talks about why dogs behave the way they do based on their pack like instincts, and how dogs communicate with body language, facial expressions, and most importantly scent.
Section 202 – Common Behavior Problems Solved
This section describes step by step instructions on how to solve the following behavior problems with real life case studies to give you better insight.
Aggression
Food Bowl Aggression
Dog-on-Dog Aggression
Fear Biting
Play Biting
Chewing and Other Destructive Behavior
Jumping on Furniture
Jumping on People
Digging Problems
Disobedience
Fear of the Leash
Off Leash Problems
Leash Pulling
Barking
Whining
Thieving
Travel Problems
Section 203 – Commands to Start
This section gives step by step instructions on how to perform the following commands;
"Come"
"Sit" Stage 1
"Okay and No"
"Hold" and "Drop it"
"Sit" Stage 2
"Sit and Stay"
"Down"
"Heel"
"Stand"
"Wait"
"Seek" (find)
 Section 301 – Dog Whispering Uncovered
This section describes the training technique called Dog Whispering.
Section 302 – Health-Related Problems Solved
Topics Covered –
Separation Anxiety
Allergies to Dogs
Euthanasia
Bad Dog Breath
Cat/Dog Peace and Tranquility
Coprophagia (Poop Eating) – come on, you know your dog is guilty of this one
Flatulence
Fleas
Hot Weather and Heatstroke
Jealousy
Worms
 Section 303 – Advanced Commands and Tricks
Advanced "Sit and Stay" Stage 1
Advanced "Sit and Stay" Stage 2
More "Sit and Stay"
Advanced "Seek"
"Beg"
"Fetch"
"Catch"
"Shake"
"Climb"
"Crawl"
"Roll Over"
Additional stuff that comes with the book
Those who order the book will also receive some pretty cool bonus material as well. We found that most of this material is actually quite good. Skim through our list below and check out some of the examples we posted to get an idea what's inside.
Click on the image links to take a look what's inside these extra materials!
#1 – Secrets to Dog Training Audio Book
This is the entire Secrets to Dog Training manual in audio book form. The audio files are downloaded from the members page where you can load them onto your iPod or MP3 player, burn them to a CD or just listen to them on your computer. The quality is actually quite good!
#2 – All The House Training Methods and Tricks
Are you looking to successfully potty train your new puppy or even older dog?
The two most effective methods of house training are discussed and described in detail.
Includes step-by-step instructions on how to correct house training problems.
Top 10 tips on making the house training process a success.
#3 – Dog Grooming Made Easy
In this book you'll find tips on…
How to handle your dog and prepare for grooming
How to safely clean your dogs eyes and ears
How to safely clip your dogs nails
Using clippers to groom your dog
Dental hygiene
#4 – 175 Gourmet Recipes For Your Dog
Many dog lovers are choosing to prepare homemade food for there dogs, due to some real health concerns with many commercial brand dog foods. Just like the cover says, 175 wholesome dog food recipes for you to try with your best friend.
#5 – Secrets To Becoming The Alpha Dog
This idea has become very popular nowadays — being the leader of your own "dog pack". But you're not a dog right? So just how do you "trick" your dog into thinking you are the dominant alpha of the "pack". This ebook details some of the things you can do everyday to help your dog understand who is really in charge.
#6 – Tips On How To Security Train Your Dog
Interested in security training your dog?
Which breed should you choose?
Professional training or home training?
Puppy selection and preconditioning tips
#7 – A Quick Guide To Dog Aggression
Whoa…..nice cover right? Well the cover might be a little dramatic, but the substance in the book is pretty good if you are actually dealing with a dangerously aggressive dog. Most of this kind of stuff is pretty well explained in the main ebook, but it doesn't hurt to reiterate some of the points…..which is basically if you have a dog that you are afraid of your dog GET PROFESSIONAL HELP!
#8 – Secrets To Dog Training Online Video
There's a good quality video that goes through some of the more common issues facing dog owners. Topics covered in this video are puppy house training, alpha dog training, crate training, and leash training.
#9 – Full Access To A Members Only Dog Community
Those who buy the book have access to unlimited consultations via email and members-only forums. This allows pet owners to ask any specific questions that they have about the book or about their dog's behavior.
A few things to note…
Secrets to Dog Training is in an ebook form, which can only be read on a computer, a tablet computer like an the ipad, or a smart phone like the iPhone. Some people may prefer to have an actual physical product, but for me this didn't make much difference. I didn't really read through the book from start to finish, I just sort of jumped around the chapters that interested me, which when using an ebook form I actually found it a little easier to use. I guess it just comes down to personal preference.
Another thing to note is the lengthy sales message on their sales page. I really think this is a good product, but I think their sales page is a little overdone and could possibly downgrade the quality of the product in the buyers eyes. But…that's why we made this Secrets to Dog Training review page, so you could get more of an inside look and make a more informed decision before you decide to purchase or not.
Refund
They offer a full 60 money back guarantee if you don't like the product.
What's our Secrets to Dog Training review verdict?
Thumbs up. I think most aspects of dog training are pretty well covered in the book and other material, especially for the new dog owner, or for the dog owner who is looking to step up the training regiment or trying to solve old habits that have been hard to break. For the more seasoned dog owner, they may not find too much new material in the book.
I tried to think back when I first got my dog, I think I really would have used the manual. Funny how much I didn't know back then! And still, even though I consider my dog to be pretty well behaved
, I definitely picked up quite a few new tips that I can put to use with my little guy.