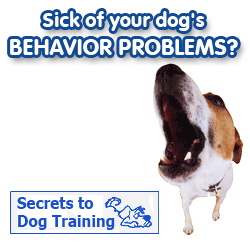 One of the annoying habits that some dogs develop is digging in the yard. They can destroy weeks worth of landscaping and gardening efforts in a single afternoon. How to stop a dog from digging will depend on the reason that he digs. There are several things that could be motivating your dog to dig holes in the yard, below we'll explore some of the possible reasons your dog digs holes, and a few tips to help stop the dog from digging.
BECAUSE IT'S FUN
Some dogs dig just because it is fun or brings them comfort. To such dogs, digging is not a way to meet a need, but is instead just another form of playtime. Dogs who dig for fun tend to spend time in a yard in which there is nothing else to do. They usually spend outdoor time alone with no other dogs or humans with which to interact.
Tips
Make sure that your dog has plenty of toys in the yard to keep her busy. Chew toys like the Kong work well, these toys last a long time and help keep dogs entertained. Hopefully entertained enough to make them forget about the joy of digging. Be sure to have a collection of toys, or at least rotate them now and then to keep things interesting.
Remember that lack of exercise is the the leading cause of most bad dog behavior. Spend time tossing a ball around, taking her for walks or otherwise spending time with him outside.
Spray her in the butt with a hose. Some people may see this as cruel, but it's just water. Just make sure it's done within reason. When you see your dog digging a hole, creep up behind her and give her a quick spray in the butt with the garden hose. Even better if you're dog doesn't understand that it was you who did it — it should be just a weird thing that happens whenever she starts digging. Just make sure you do this IN THE ACT of digging, not after, because you're dog will have trouble making the association of what she did bad if the punishment is done after the deed.
ESCAPE
You can tell that she is trying to escape if the digging seems to be focused around the fence line. This is not only annoying behavior, but it is also dangerous. Should she succeed in his escape attempts, she could easily be injured or lost.
Tips
Have dog spayed or neutered
A dog that is altered is less likely to want to stray.
Be sure you are meeting the dogs needs
If a dog feels he must search for water or food, he will try to escape the confines of the yard to find it.
Keep the dog in the house
Some dogs just aren't meant to be outside dogs. If possible, allow the dog in the house while you are away, especially if you think your dog could dig a hole deep enough to escape under the fence. If it's a serious concern and you are forced to keep your dog outside, an electric fence may be the solution to prevent your dog from escaping the yard.
Take the time to crate train the dog if you're worried that she will make a mess in the house while you're away.
SHELTER
Another common reason that outside dogs dig is to find shelter from the heat or the cold. You can tell that a dog is digging for this reason if she tends to dig close to the house or an outbuilding or if you find her spending time sleeping in the spot that she has dug.
Tip
If the dog spends chunks of time outside, even if she is allowed in sometimes, you should provide her with a dog house or other type of shelter. Also, she should have access to clean water outside, even if she eats in the house.
OTHER TIPS
Digging is natural to dogs, and is actually a trait bred into some, such as terriers. The Humane Society suggests providing a designated digging area. This can be a corner of the yard or even a sandbox.
If your best efforts are not helping to stop the dog from digging, you might have to get help from a professional. This could be in the form of obedience classes or one-on-one sessions with a professional trainer.